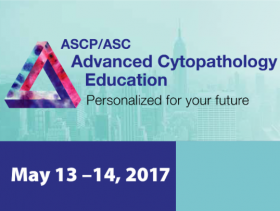 Advanced Cytopathology Education: Personalized for Your Future
ACE, at its core, is structured to bring advanced cytopathology topics to regional areas based on current and emerging needs.
ACE is a two-day education program created to assist you in transitioning into other practice areas by refining, expanding, and strengthening your skills. This is the most proactive way for you to navigate your journey through your changing profession so that you remain in demand and an integral part of the laboratory team.
ACE will cover the current and future Cytopathology changes and developments with:
• Highly comprehensive and customized education sessions to enhance diagnostic techniques
• Engaging and interactive educational strategies
• A dynamic, world-renowned faculty
• Fellow Cytotechnologists sharing professional growth experiences
• A professional and practice trends Q&A with cytology thought leaders
Target Audience
Primary audience: cytotechnologists, cytotechnology students, cytopathologists, pathology residents and cytopathology fellows.
Learning Objectives
Update skills in diagnostic cytopathology to refine the professional practices of both pathologists and cytotechnologists.
Learn the latest standards in cytology practice including updated terminology and recent advances in technology.
Review and understand the diagnostic criteria and differential diagnoses in Non-GYN cytology, including fine needle aspiration, from multiple organ systems.
Vivian and Seymour Milstein Family Heart Center, New York-Presbyterian Hospital / Columbia University Medical Center
173 Fort Washington Ave
United States
Disclosures
Current ACCME guidelines state that participants in CME activities should be made aware of any affiliation or financial interest that may affect the speaker's presentation(s). Therefore, it is the policy of the ASC to insure balance, independence, objectivity, and scientific rigor in all its educational programs. All planning individuals participating in any ASC Educational Activity are expected to disclose to the program audience any real or apparent conflict(s) of interest that may have a direct bearing on the subject matter of the continuing education program.
Faculty                                                                        Disclosures
| | |
| --- | --- |
| Manon Auger, MD, FRCP(C) | No affiliations or financial interests in any of the corporate organizations involved with products to which my presentation will refer in this program |
| Edmund S. Cibas, MD | No affiliations or financial interests in any of the corporate organizations involved with products to which my presentation will refer in this program |
| Barbara A. Crothers, DO | 1) College of American Pathologists (CAP) 2) I receive payment for travel, food and lodging as a member of the CAP Cytopathology Committee and Council on Scientific Affairs 3) This presentation discusses some of the elements of the CAP Laboratory Accreditation Program (LAP), which is partially overseen by the CAP Cytopathology Committee. 4) I have no financial interests otherwise in the CAP or other organization |
| Amber D. Donnelly, PhD, MPH, SCT(ASCP) | No affiliations or financial interests in any of the corporate organizations involved with products to which my presentation will refer in this program |
| William C. Faquin, MD, PhD | No affiliations or financial interests in any of the corporate organizations involved with products to which my presentation will refer in this program |
| Maria A. Friedlander, MPA, CT(ASCP)CMIAC | No affiliations or financial interests in any of the corporate organizations involved with products to which my presentation will refer in this program |
| Sandra Giroux, MS, SCT(ASCP)CFIAC | No affiliations or financial interests in any of the corporate organizations involved with products to which my presentation will refer in this program |
| Tamas A. Gonda, MD | No affiliations or financial interests in any of the corporate organizations involved with products to which my presentation will refer in this program |
| Oscar Lin, MD | No affiliations or financial interests in any of the corporate organizations involved with products to which my presentation will refer in this program |
| Kalyani Naik, MS, SCT(ASCP) | No affiliations or financial interests in any of the corporate organizations involved with products to which my presentation will refer in this program |
| Liron Pantanowitz, MD | No affiliations or financial interests in any of the corporate organizations involved with products to which my presentation will refer in this program |
| A. Janie Roberson, BS, SCT(ASCP)CMIAC | No affiliations or financial interests in any of the corporate organizations involved with products to which my presentation will refer in this program |
| Dorta E. Rudomina, MBA, CT(ASCP) | No affiliations or financial interests in any of the corporate organizations involved with products to which my presentation will refer in this program |
| Anjali Saqi, MD | No affiliations or financial interests in any of the corporate organizations involved with products to which my presentation will refer in this program |
| Lynnette Savaloja Pineault, MBA, SCT(ASCP) | No affiliations or financial interests in any of the corporate organizations involved with products to which my presentation will refer in this program |
| Renu K. Virk, MD | No affiliations or financial interests in any of the corporate organizations involved with products to which my presentation will refer in this program |
| Patricia G. Wasserman, MD | No affiliations or financial interests in any of the corporate organizations involved with products to which my presentation will refer in this program |
| Eva M. Wojcik, MD | No affiliations or financial interests in any of the corporate organizations involved with products to which my presentation will refer in this program |
Available Credit
12.25

AMA PRA Category 1 Credit™

12.25

California Credits

12.25

CMLE

12.25

Florida Credits

12.25

Participant