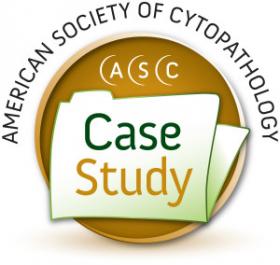 Rapid On-Site Evaluation Adequacy Assessment of a 75-Year-Old Man with 3.3 cm Lung Mass
Case Studies provide an interactive distance-learning experience to interesting cases in the field of cytopathology. Each Case includes objectives, images, a clinical history, along with a multiple-choice diagnosis followed by discussion, review images and references.
Target Audience
This educational activity is designed for pathologists, fellows/residents, cytotechnologists, and other members of the cytopathology community.
Learning Objectives
Identification of small cell lung carcinoma on air-dried smears at rapid on-site evaluation.
Triage of sample suspicious for small cell lung carcinoma.
Clinical and pathologic aspects of small cell lung carcinoma.
Presenting Authors: 
Raza Hoda, MD
Sarah Kline
DISCLOSURE OF RELEVANT FINANCIAL RELATIONSHIPS
The faculty, committee members, Executive Board and staff who are in position to control the content of this activity are required to disclose to the ASC and to learners any financial relationships that have occurred within the last 24 months with ineligible companies whose primary business is producing, marketing, selling, re-selling, or distributing healthcare products used by or on patients. The ASC has reviewed the disclosures and mitigated all relevant financial relationships.
The following individuals have reported financial relationships:
Oscar Lin MD PhD: Consultant – Hologic and Jansen
Liron Pantanowitz MD: Consultant – Hamamatsu, Advisory Board for Ibex
Martha B Pitman MD FIAC: Consultant – Adenocyte, LLC
Donna K. Russell MEd CT(ASCP) HT(ASCP): Advisory Board – Hologic Scientific
Christopher J. VandenBussche MD PhD: Ad hoc advisory board panel and Consultant – Roche
The following individuals have reported no relevant financial relationships:
Omar Al-Nourhji, MD, PhD, Susan A. Alperstein, MS, CT(ASCP), Kristen A. Atkins, MD, Catherine E. Bammert, PhD, CT, MD(ASCP), Guliz A. Barkan, MD, Christine N. Booth, MD, Barbara A. Centeno, MD, Ina Chan, SCT(ASCP), Athena Chen, MD, Deborah J. Chute, MD, Adela Cimic, MD, Amy C. Clayton, MD, Jacqueline M. Cuda, BS, SCT(ASCP), Pamela C. Gibson, MD, Kara L. Hansing, MEd, SCT(ASCP)CM, Raza Hoda, MD, Deborah A. Krzyzaniak, MS, SCT(ASCP), Elizabeth M. Kurian, MD, Xiaoying Liu, MD, Pamela Michelow, MBBch, MIAC, Sara E. Monaco, MD, Seyedreza Mousavi, MD, MS, CT(ASCP), Erika F. Rodriguez, MD, PhD, Sinchita Roy-Chowdhuri, MD, PhD, Jinous Saremian, MD, Erin C. Smith, BA, CT(ASCP), MB(ASCP)CM, Momin T. Siddiqui, MD, FIAC, Kartik Viswanathan, MD, PhD, Poonam Vohra, MD, He Wang, MD, PhD
The ASC staff associated with the development of content for this activity reported no relevant financial relationships.
Presenters:
The presenters have no conflicts of interest or financial relationships to disclose.
Available Credit
1.00

AMA PRA Category 1 Credit™

1.00

California Credits

1.00

CMLE

1.00

Florida Credits

1.00

MOC II

1.00

Participant